The Morgan Kalman Clinic is a Wilmington DE sports medicine practice who has been a leader of arthroscopic and orthopaedic surgery for over 20 years. We believe in a conservative approach to treatment when possible so that you can lead a healthier, pain free lifestyle. We want you to be able to enjoy your life to the fullest.
Why Morgan Kalman Clinic?
At Morgan Kalman, you can expect world class care from doctors that are not only respected by
their peers, but are leaders in their field. Our doctors are known nationally and internationally for
educating orthopaedic surgeons on the latest cutting edge arthroscopic and surgical procedures of the elbow, hip, knee, and shoulder. They have given hundreds of presentations, written textbook chapters, published journal articles, and teach physicians in training at local area hospital/university systems.
Treatment options also include the regenerative therapies: PRP (platelet rich plasma) and Stem cells to help recover from injury or joint pain.
But it's not just about expertise; at our Wilmington DE sports medicine clinic, we truly care about our community and our patients. When you make an appointment at our practice, you will see a doctor directly. We consider this to be important so that you can be assured that you are receiving the highest level of care possible. In addition, we do our best to discuss all treatment options so that we can find the one that is right for you. Patients are sometimes told they need surgery at the outset of their diagnosis. However, many times other procedures can be used to delay, or outright avoid, the need for surgery. We will make sure to explore all your options so that you can return to your active lifestyle.
Our Wilmington DE Sports Medicine Clinic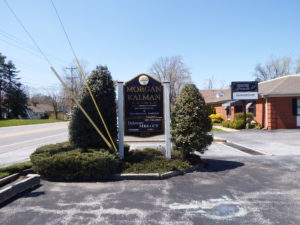 Our Wilmington Delaware sports medicine clinic is located:
2501 Silverside Rd.
Wilmington, DE 19801
(302) 529-5500
Glasgow Surgery Center
Dr. Morgan and Dr. Kalman perform out-patient and same-day orthopedic surgeries at Glasgow Surgery Center in Glasgow, Delaware.
2600 Glasgow Ave # 226
Newark, DE 19702